Seven Interesting Backyard Makeover Tips for This Spring
May 16, 2019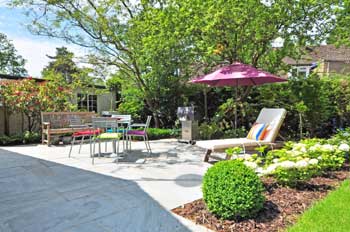 Your backyard is your home away from home, your Zen, your Shangri-La. It can serve as a place of peace and calm, and a way to connect yourself, at least a little, with nature. For this reason, you might consider improving it a bit, getting it a nice makeover - and what better time for a makeover than spring.
Spring is always a sign of rebirth, a time when the new replaced the old, when new life springs. So why not take this opportunity, when the weather is finally nice, when life is coming about, and get some work done? Below are some of our tips on how to get a good backyard makeover done the right way, as well as some ideas on what you can actually make.
First Things First - Clean It Up
Before you do any kind of backyard work, you need to clean things up. This is important for two reasons. First, obviously, you will have actual room and space to get some work done and get a makeover going. However, the other reason is that you will be able to assess your situation, to figure out what you should do, and how you should do it. It's a necessary step towards planning.
So, go down there and get to work. Trim your trees and get rid of dead branches and bushes. Pull out any weeds and things you simply don't want to keep in your backyard. Get rid of any junk you're not using, like old swing sets, tires, lawn furniture, and things of that nature. While you're at it, this is the perfect opportunity to check whether any maintenance work needs to be done. Check for cracks or damage to your pavement and walkways, and in general inspect any constructions in your yard.
Try Out an Open Living Room
A great idea for a backyard makeover is creating an open living room. These are some of the more comfortable ideas you can have. Imagine, the comfort of the inside of your own house, but still out in the open, with the sun and fresh air directly there, for you. So, here is what you need. First, a covered patio. Then, some furniture, a table, maybe even a rug. If you can afford it, placing a fireplace in there can be a wonderful addition as well.
A big part of making this easy and safe is by having stone tiles used as flooring for your patio. Placing some durable wicker chairs there, a nice table, and you have the perfect escape from home, in your home.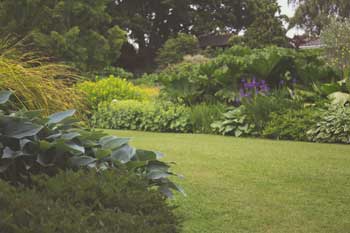 Civilize Your Garden
A great addition to your backyard would be a nice garden. However, most backyards that have space do have their own garden - what we're aiming at here is something a bit more thematic and structured. Namely, theme gardening is all the rage nowadays. The secret here is that you pick a certain theme and you run with it. Now, the theme can be anything, from a period of time, flowers mentioned in your favourite novel, or maybe just choosing one colour, and then seeing how many shades of said colour you can grow.
You can also have it landscaped in certain styles. Maybe a kid-friendly maze of flowers (just try to keep them
allergen-friendly
) that little children can run and get lost in. Maybe something a bit more relaxed, like a small pagoda surrounded by flowers and vegetation, hidden from sight for all except those who know where to look.
Try Out French Doors
An interesting way you can extend your living area is by using French doors. Namely, you can extend your home (or your patio living area) by essentially opening an exterior wall that can be found between your dining room or kitchen and your patio. To get the most out of this option you should perhaps change up the dining room to match the patio (or the patio to match the dining room). Things like floor tiles and decorations can serve to enhance this illusion. Getting furniture of the same style (or at least colour palate) that is used for the patio is a great choice, as can getting the right tiles.
Don't Forget About Your Patio
Your patio is practically the heart and soul of any outdoor living area. If you don't have one, you should get it installed pronto. However, if you do, you're not done. First, inspect it regularly. See if any repairs need to get done, or if something needs to be replaced. Are there any cracks in the concrete, or has the wood begun to rot? If you got that out of the way, see if there is room for extra construction or improvements you can do.
However, keep in mind that unless you have professional experience in construction, for some heavier jobs you will need to hire an expert. For heavier repair activities, or something like insulation work, you may need to contact a good company, like
Interline Manufacturing
) for example, to handle this for you. Adding retractable pergolas, or any automation to your patio can be very difficult, and downright dangerous for an amateur, unless you really know what you're doing.
However, the projects don't necessarily have to be large to be considered an improvement. Perhaps you want to add tiles to the patio floor, instead of just having basic concrete. Or maybe a new coat of paint, or some hanging plants.
Get an Outdoor Kitchen
Now this one may be one of the more ambitious projects on this list, and it requires a lot of money and time. However, it can be some of the most fun stuff you can do. Just having your own outdoor kitchen can make cooking that much more relaxing and enjoyable. However, a barbeque system is also a great option.
In fact, a backyard built-in BBQ is a great start for your future outdoor kitchen anyway. The best part is that while this may take a couple of weekends to set up, you can find all the materials you want at a local store, and can basically set it up on your own. Just try to
stay safe and sound
) while doing it, and while using the actual BBQ.
Get Beautiful Walkways
People neglect their walkways, they just get the first simple tiles they find, or even use basic concrete, and that's that. But, if you're investing so much time and effort into improving your home in all these areas, why neglect such a vital part of your backyard? Get a nice mosaic-style walkway, or maybe some unique type of stone.
Another feature is actually adding more walkways in general. Have them connect all your backyard features, like your garden, added seating areas, pool, hot tub ... These will not only guide your guests and make things easier, they will also accentuate them even more.
Conclusion
And there you have it folks, a couple of tips on making your backyard more beautiful and giving it a makeover. A good budget and some imagination go a long way. So, once you clean everything up, why not invest fixing up your patio and actually get it insulated, or just improved in other ways? How about getting a nice outdoor kitchen, or at least a built-in barbecue. Getting some added walkways that really accentuate the place, and improving said walkways will go a long way. Of course, don't forget about your garden, and try out French doors. Finally, to really make this area feel like a faraway retreat that is still close to home, why not get an open living room, right in the middle of your backyard?
Author Bio:
Patrick Adams
is a freelance writer and rock-blues fan. When he is not writing about home improvement, he loves to play chess, watch basketball, and play his guitar. More than anything, he loves to spend his time in his garage, repairing appliances and creating stuff from wood. Patrick lives in Sydney, Australia.