Best Activities to do when Vacationing in Florida
by guest writer Paisley Hansen
March 8, 2019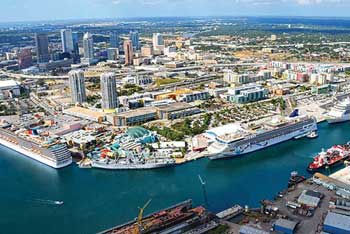 Everyone loves to vacation in Florida. The Sunshine State never fails to satisfy vacationers and residents with all that it has to offer. There are plenty things to do across the state of Florida. Below we review and share some of the lesser known things to do. You can add these activities to your list of activities while enjoying different parts of Florida. Bring your sense of adventure, plenty of sunscreen, and a camera so that you can catch some fun memories.
Theme Parks
If you are a Harry Potter fan, or even if you are not, you are going to enjoy being at the Wizarding World of Harry Potter. Your visit to Universal Studios is going to be magic filled. Explore two worlds of fun in Universal's Islands of Adventure and Universal Studios Florida. You can visit the village of Hogsmeade from Hogwarts castle and get in to the mystery of Diagon Alley. Hop on to the Hogwarts Express to get between the two worlds.
Tampa Bay
Tampa Bay has a laid back approach to a Saturday morning with St. Petersburg's Saturday Market. From October until May you can eat and relax your way through this outdoor market. Local farms provide the great food and there are plenty of
original crafts
to shop for while you listen to live music. Al Lang Field parking lot is located near the beachfront. Here, an array of goods such as seafood, chocolates, popcorn, cheeses, breads, and so much more await!
While you're in the Tampa Bay area enjoy Busch Gardens. Just a short trip over the bridge to Tampa and you can enjoy this African themed amusement park. It will take you a day or two to enjoy the 335 acres of African themed entertainment. Besides the roller coasters and thrill rides, there is also live music and entertainment that can be enjoyed by the whole family.
In between lounging and
enjoying inground pools in Santa Rosa Beach
, make certain to include Walton County has a few beaches you can enjoy, but the best is Santa Rosa Beach. There are luxury beach houses, fine dining, and Point Washington State Forest. The area is known for its natural beauty so take a moment and soak it in. Besides, its Florida and you will want to enjoy the many beautiful beaches throughout the state. Go ahead and take a dip in to the waters to refresh yourself.
You've heard of drive through food service, but have you heard of drive through cageless zoo? Lion Country Safari has this on the menu as well as a walk-through amusement park. Loxahatchee awaits to show you over 900 animals. This attraction is two parks - one for the animals and one for rides and entertainment. You can easily enjoy both in one day or a few days. With over 900 animals there is certain to be a favorite that you want to see.
If you have never heard of Salvador Dali, then you will be a fan once you visit the Dali Museum located in St. Petersburg. Take a guided tour through the museum so you can learn the surrealism of Salvador Dali's imagination and creativity. The art museum houses the most comprehensive collection of Dali's work outside of Europe. The famed Spanish artist was creative in his artistic presentations.
Florida has so much to offer
- from its natural setting to its attractions. Make certain to get a taste of all parts of Florida during your visit. Soak in the sun while enjoying the numerous attractions and activities offered in Florida year round.
Author Bio: Paisley Hansen is a loving wife and mother of twins. She is a self-described "DIY addict", and loves to decorate her house and office with her creations. As a mother, Paisley is really passionate about health, nutrition, and spending time with her family. When she's not writing, you can find her with a glass of mint lemon water and a child on each hip. Who says moms aren't superheroes?