Strategies Students Can Use Now to Take the Worry Out of Career Planning
May 30, 2019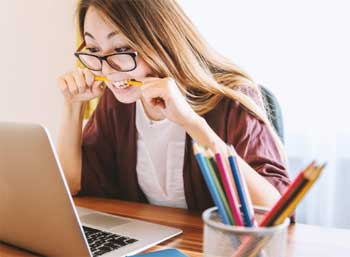 Thinking about your future career prospects can be a little daunting. Whether you're in high school or college, you know that the "real world" is right around the corner. But how do you translate what you're learning into a professional experience? The most important thing is to start preparing for your career now. If you wait until graduation, you will be late to the game.
Gain Real-World Experience
The curriculum you're taking forms a foundation for your career, but coursework alone isn't going to prepare you for work. According to Forbes, students who were surveyed about
career readiness
reported that having more professional experiences would have made them feel better prepared. Below are some of the best ways to seek out the experience you need..
Start a Business
You don't need a degree to start your own side business. When you run your own business, you are responsible for learning the ins and outs of the professional world. One idea is to start an e-commerce business, which you can easily do alongside schoolwork. With the
dropship model
, products ship directly from suppliers to your customers so you don't have to keep stock or make a big investment. If you go this route, make sure you choose a product that's unique, and develop a website that's user-friendly and mobile-friendly. Work on providing excellent customer service, which will set you up for success (and help you develop a crucial skill for employment).
Get a Job or Internship
The best way to get hands-on experience in your field is to actually work in it. An
internship
may be paid or unpaid, but either way, it gives you the opportunity to put what you're learning into practice. The other advantage of an internship is that it gives you a feel for professional culture. Another option is to find entry-level work or even a campus job. This will allow you to
explore different careers
and get a feel for what suits you best.
Volunteer
Giving your time as a volunteer is another way to get work experience while also giving back to your community. Non-profit organizations have a wide array of needs, so you may be able to help in a department that corresponds with the field you're pursuing. Besides the opportunity to hone your skills,
volunteer work
also boosts your resume by giving you relevant experience to show potential employers.
Make Connections
All of these strategies for getting work experience help you make new connections, but you should be
networking
in other ways too. One way to do that is by expanding your social group. Try a new activity and get to know people from all walks of life, not just those you're around all the time. You should also look into whether your school can help you
connect with alumni
. They can be a valuable resource because you already have a shared association.
Besides in-person networking, your online presence is another opportunity full of potential. You should always present yourself professionally online, and you can use online communication as a tool to make new connections. Consider
blogging
about your area of interest, which will give you experience and help put your name out there at the same time.
Write a Killer Resume
Even before you graduate, you should have a resume that reflects your accomplishments so far. If you're in high school, it's a good idea to have a resume for your
college applications
. Because your primary job right now is being a student, Monster.com recommends listing your
education and any honors
at the top of your resume. You also want to highlight the experience you have (even unpaid) in a way that is relevant to your career goals and potential.
Doing all of this work to think and act like a professional is what it takes to make your future career a reality. However, don't worry! You don't need to have your entire life figured out to start preparing for your professional future now. Just start with these simple strategies, and you'll soon be moving in the right direction. Author Bio: Eva Benoit - "I specialize in helping people with anxiety, but I welcome working with people from all walks of life. I don't claim to have all of the answers, and there is no overnight solution that will put you on a path to a calmer, less stressful, fuller life. But what I can tell you is that together, we will discover and explore avenues that will bring you balance, peace, and improved overall well-being that can last a lifetime!"