Five Places to Consider for Your Next Family Vacation
by guest writer Paisley Hansen
March 18, 2019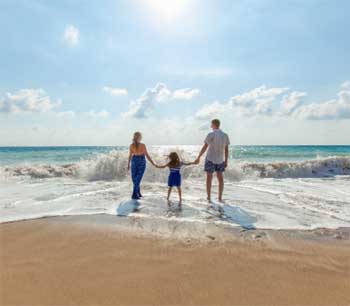 Family vacations are a special time, filled with wonder and excitement for the kids (and hopefully some fun for the parents too). Yet often the most difficult decision when planning a vacation is where to spend it. Will you camp in the great outdoors, visit an amusement park, or cruise to an exotic destination? To help you in your decision, here are some of the top family vacation spots.
Disney Parks
A classic, to be sure. But when you're traveling with kids, Disney will never disappoint. Even teenagers and adults will be lost in the magic
Soar on over to California, where the fun never ends. Skip the line with Disney's FastPass system, and ride the monorail to travel quickly throughout the park. Meet your favorite characters at Mickey's Toontown. Become a jedi and graduate from Star Wars training in Tomorrowland. Grab a snack at the Cozy Cone Motel, then ride Radiator Springs Racers in Cars Land. Experience the thrill of California Adventure's newest ride: Guardians of the Galaxy - Mission: BREAKOUT. And stay tuned for Star Wars: Galaxy's Edge, opening summer 2019!
In Florida, experience even more adventure at four Disney parks! Find your favorite classic rides and characters at Disney's Magic Kingdom. Show off your gaming skills at Hollywood Studios. Explore the magic of science and technology at Disney's Epcot. Join the Wilderness Explorers program in Animal Kingdom. Receive royal treatment and be a princess for a day! And check out Harry Potter World while you're at it!
Whether you're exploring Orlando's
Walt Disney World
, or enjoying the fun of Anaheim's
Disneyland
, you're sure to be swept up in the magic of Disney!
Family Cruise
If you've never been on a cruise, you won't want to miss out! With a variety of destinations to choose from, you're sure to find something the whole family will love. Travel to northern glaciers on an icy Alaskan cruise. Or, if you prefer the heat, head down south to the Caribbean, where you'll find diverse customs, cuisines, and cultures. No matter where you go, endless fun awaits you.
There's plenty to do on the ship as well. Many cruise ships come equipped with pools and water slides. Find a ship that has a shallow area for younger children, as well as a spot where the adults can relax while the kids play. Take advantage of events on the ship, and see what classes and camps are available. If you're feeling bored or stressed, you can always head over to the fitness gym, or relax at the spa. There's always something to do, no matter your age.
Search out the best
family cruise option
for you!
National Parks
If you're looking to spend more time in the great outdoors, check out some of America's national parks. With over 50 places to choose from, you're sure to find something beautiful and awe-inspiring.
Yellowstone Park is famous for its beautiful landscape and abundant wildlife, in addition to famous landmarks like Old Faithful. Further north, you can visit the expansive Glacier National Park, complete with hiking trails, lakes, and mountain resorts. For a warmer experience, check out the Grand Canyon, or head over to Arches National Park in Utah.
Which
national park
will you explore first?
Hawaii
Another classic vacation spot, Hawaii is home to Pearl Harbor, a variety of National and State Parks, and three active volcanoes! There's plenty to do and see, from shoreline excursions to historical attractions.
With over 100 beaches in Hawaii, there's lots of water and fun to go around. You can try snorkeling, visit an aquarium, swim with aquatic creatures, or head out to sea. For a magical experience, try staying at the Aulani Disney resort. Learn about the rich heritage of the Pacific Islands at the Polynesian Cultural Center. Or hike one of the many volcanoes Hawaii has to offer.
If you're looking for adventure, excitement, or even just relaxation,
Hawaii
is the perfect place for your next family vacation!
Washington D.C.
Discover the mysteries of America's past by traveling to the nation's capital! You can visit some of history's most famous locations, like the Washington monument, the Lincoln Memorial, and the White House. But D.C. has a lot more to offer than national landmarks. In addition to parks, monuments, and the National Mall, Washington D.C. is home to nearly 100 museums, many of them free to the public.
The Smithsonian Institution has some of the most fascinating and kid-friendly museums in the country. Your kids will love exploring the various halls, where they will find hundreds of life-size animal statues, enormous fossils, and cultural objects from civilizations around the world. The Air and Space Museum covers the history of air travel throughout the world, from the Wright Brothers' first flying machine, to modern space exploration. Even the postal museum will leave you captivated, as you learn about the history of the postal service, design your own stamp collection, and meet Ben Franklin!
Rich history, famous landmarks, and beautiful sights make
Washington D.C.
an adventure for explorers of all ages!
The best family vacation begins with traveling to an unforgettable location. No matter where you go, you're sure to find plenty of fun and excitement when you choose one of these destinations.
Author Bio: Paisley Hansen is a loving wife and mother of twins. She is a self-described "DIY addict", and loves to decorate her house and office with her creations. As a mother, Paisley is really passionate about health, nutrition, and spending time with her family. When she's not writing, you can find her with a glass of mint lemon water and a child on each hip. Who says moms aren't superheroes?