Creative People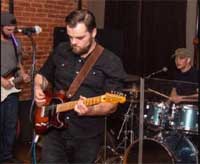 Jake Bracey
Jake Bracey
Bucks County, PA
Email
Music that includes covers and originals, consisting of Jake Bracey and a couple of musical friends who's material probably will make you want some type of alcoholic beverage.
Jake plays a large variety of covers, as well as some originals peppered into sets. Everything from Tom Petty, John Mayer, Coldplay, Michael Jackson, and Pink Floyd among several others.

As an Amazon Associate and participant in other affiliate programs, we may earn from qualifying purchases from this page.