Camp Guide
Sign up by February 2, 2024 for our Email Blast to 50,000+!
We offer one of the most popular camp guides in our area! You can sign up to be highlighted in our Guide at any time, but get the best bang for your buck if you sign up by February 2, 2024; on February 6th we'll be sending out our Summer Camp Newsletter. You can be featured in the actual newsletter and/or take advantage of the traffic we'll be sending to the Guide.
COST OPTIONS SUMMARY - Ads will be live from signup through 8/23/24:
1. Summer Camp Guide Highlighted Listing: $225
2. Summer Camp Newsletter: $150 for Featured Block. First-come, first-served!
3. Dynamic Ad with FREE Highlighted Camp Listing: $500
2024 Summer Camp Guide Highlighted Listing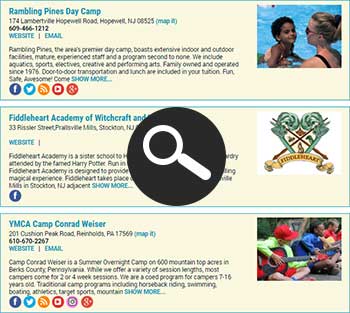 Our Summer Camp Guide is one of the most popular local resources for parents searching for the best summer camp for their kids. Even for folks that don't typically use our websites (there may be few of you out there), our camp guide has a first page Google ranking in our service area! We are really hard to miss. To remind parents about the Camp Guide, it will be featured in our Summer Camp Newsletter that will be emailed to 50,000 people on February 6th.
Our Summer Camp Guide allows our visitors to select a geographic region (Lower Bucks, Central Bucks, Upper Bucks, Lehigh Valley, Montgomery County, Hunterdon County Area) or Sleepaway Camp category as the first step to finding the perfect camp for their children. Highlighted camps will show up in their appropriate regions (dictated by school districts). So, if our visitors are looking for camps in Montgomery County, only the Montgomery County camps (highlighted at the top and free listings at the bottom) will be displayed.
With a low price of $225.00, your Summer Camp advertisement will include:
Special highlighted listing through August 23, 2024;
Contact information;
A short camp description;
One photo;
Link to your website and email; and
Links to social media.
Questions? Email us at .
If you would like even more exposure for your camp, you may want to consider upgrading to a Dynamic Ad (and get your highlighted camp listing for FREE) as described below.
2. Summer Camp Newsletter
Deadline: February 2, 2024
On February 6th, we'll be sending out our annual Summer Camp Newsletter to our email list of 50,000. Not only will we be sending folks to our Camp Guide, but we will also be giving camps an opportunity to be included directly in the email newsletter with a Featured Block including a large photo and a description. The price for this featured block is $150. Whether or not you have a Highlighted Listing, you can participate in this program. To see an example of the newsletter CLICK HERE. Sign up by February 2nd to be included in this awesome marketing opportunity! Camps are added on a first-come, first-served basis, so the sooner you sign up, the higher in the list you'll appear!
Dynamic Ad Program
Free Camp Ad with your Dynamic Ad
Boost your exposure exponentially with our Dynamic Ad Program! This includes an ad box that rotates through all interior pages, so you're getting MANY more eyes on your camp than you would with just a Highlighted Camp Listing. In addition, you will be listed as a Camp Guide Sponsor which includes your logo at the top of every Camp Guide page (above the start of the individual camp listings).
Dynamic Ad live until 8/23/24: $500
Learn more about our Dynamic Ad Program.

Questions? Shoot us an email - .