Wings of Freedom Aviation Museum
1155 Easton Rd., Horsham, PA
The Delaware Valley Historical Aircraft Association Harold F. Pitcairn Wings of Freedom Aviation Museum is a 501(c)3 nonprofit, all-volunteer organization, located in Horsham, Pa. The museum's mission is to preserve aviation history in the greater Delaware Valley, including the contributions of Harold F. Pitcairn, as well as the men and women who served at NASJRB Willow Grove, for the education and benefit of future generations.

There are currently seventeen aircraft on display both inside the museum and in the outdoor display area. The restoration team is responsible for the restoration and maintenance of all historic aircraft located at the Wings of Freedom Aviation Museum. Most recently, the restoration team has completed an extensive exterior restoration of the Chance Vought F8U-1 "Crusader". Currently, they are working on a light restoration of the FJ-4B "Fury" . The Lockheed P-3B "Orion" is the next restoration challenge to be tackled!
History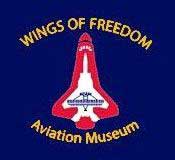 The beginnings of displaying aircraft at Willow Grove began shortly after World War II. In May 1946, LCdr. David Ascher arrived at NAS Willow Grove as the station's first Aircraft Maintenance Officer. A few months later, a local high school acquired a P-40E "Kittyhawk" from the Army Air Force which they turned over to the Navy. Ascher led the movement to modify the aircraft and change the markings to a "Flying Tiger," thus becoming the first aircraft displayed at Willow Grove.
With a large public response, Ascher decided to pursue acquiring additional aircrafts. A former shipmate of Ascher's, Navy Cdr. John Schwirtz, informed him that two Japanese seaplanes were removed from the captured German battle cruiser, Prinz-Eugen, in Philadelphia. Along with some of his personnel, Ascher went to NAF Philadelphia and picked up the seaplanes returning them to Willow Grove. The seaplane, a German Arado, became the second aircraft displayed in early 1947.

Ascher then heard about several captured Axis aircraft scheduled to be scrapped at NAS Patuxent River, Maryland. Seeing the potential for something great with these aircraft, Ascher and the base's training officer LCdr Hass, flew to Patuxent River in spring 1947. They chose several unique World War II enemy aircraft and gained approval for their return to NAS Willow Grove. First, barged to the NAF Philadelphia, the wings were removed for transport along the narrow roads north twenty-five miles under local police escort to NAS Willow Grove for display. Reassembled and repainted with their original markings, the aircraft were placed on display for the public to see.
LCdr Ascher remained at NAS Willow Grove until 1952 when he was transferred to the Naval Reserve Air Station at Niagara Falls Airport, NY. Ascher passed away in 2006 but his acquisition of several aircraft and his dedication to preserving them began Willow Grove's long history of displaying military aircraft for the public to view.
Read Mike B.'s review of Wings of Freedom Museum on Yelp
Read Kate F.'s review of Wings of Freedom Museum on Yelp
Read michelle f.'s review of Wings of Freedom Museum on Yelp