Remodeling Considerations: Choosing Your Door
by guest writer Tal Hassid
July 19, 2019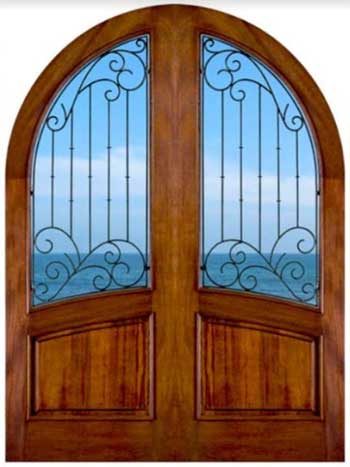 There are many parts to a home that require a lot of thought, especially when it serves multiple purposes. The front door to your house is not only usually the first thing people notice when nearby, but it is also the security that protects you from the elements and any unauthorized access. Then there are the interior doors to your home to think about and many variations of them. The door, no matter where it is located is an entrance point for everyone and something everyone will touch and see so it is important to make the right decision. There are hundreds of kinds of doors though, made from dozens of materials. Then you add in how many kinds of locks and handles and you have an infinite amount of possibilities.
Which Material Is Right for Me?
Let's start with the materials you have to pick from. Steel, fiberglass and wood are the most common types used. All have their own strengths and weaknesses.
Steel doors are sturdy, not too pricey and are great insulators, meaning they keep the outside temperature from seeping in. They are very hard to stain though, so they require to be painted. This can lead to chipping as time carries on and they are also prone to rust if they get scratched, which happens easily. They are high quality doors though that could give your home the look and security you desire.
Wood doors give a beautiful unmatched look to your home. They are very strong and can be easily repaired if damaged. They can be stained or painted to give you almost any look you desire. One of the downsides of the classic wooden door is the cost, being one the most expensive doors to buy. They are also one of the least energy efficient of the modern doors. They absorb moisture, which means paint will bubble after a few years usually and they can warp or even rot if not kept up with on maintenance. Every few years they will need a fresh coat of paint in order to keep their beautiful finish.
The last of the most common modern doors are fiberglass. These doors are fantastic insulators, being very energy efficient and do not require much maintenance like the wooden or steel doors. They can be found in nearly every style as the two doors above, being very versatile in design and shape. This means they can give you the same warm feel of a wooden door, but require much less maintenance. They are difficult to scratch, damage or warp and maintain their beauty the longest of all the doors. The cost for theses doors isn't expensive when compared to other medians, and they tend to be the most popular of the three major types of doors. The downside to a fiberglass door? There really aren't any. They can give you nearly the same strength and beauty as the other two kinds of doors while lasting longer and with less work from you.
Consider your Setting
Next you have to think of the design of your door. Do you want side lights? Where is the door located and do you care about how much light gets though? What about security?
Most interior doors need much less strength and support because its protected from the elements. Maybe you want a thicker door though to block out sounds from the house or one that is stronger because of what lies behind it. yYou could choose from elegant two-fold doors, some with a mirror covering the entire door. Great for a bedroom or bathroom with a closet. Regardless of your desire for interior doors, there is one that is a perfect fit for you.
For the front door, side lights can let in natural light and give your home a more elegant appearance. Side lights are panels with windows on either side of the door. They are usually custom made, so they will fit your house perfectly and you can customize it to get the exact look you desire. French doors can change the feel of the rooms nearest them, due to the large windows in it. Natural light and an outdoor view make the home feel warmer and more spacious in nearly every application. Little details such as the design, window placement and finish of your door can add an elegant and homey feel to the place where you call home.
Door Hardware Makes a Dramatic Difference
The last part all this would be choosing a door knob and lock set. There are limitless designs to these as well, but only one that is right for you. How important is security? Maybe that is what you value most. There is a large market for people with that in mind and a lot of options for you. Doors with double dead bolts provide the maximum security while some door locks have gone keyless for an added safety measure. Using a pin or passcode to enter rather than a key which could be lost or stolen. These are called smart locks. You could even go all the way up to a finger print scanner for the upmost protection.
If you don't need all that high tech, you can go with something much simpler and more elegant. Classic, antique, rustic and traditional are just a few of the many options they come in. Round door knobs or levered door knobs. Every person will desire something different, whether it be security, elegance or simplicity, but the perfect match is there and it is important you find it. This is something that you, and others will be using daily. Something that will last a lifetime.
Installation of your door should take only a few hours after you have decided on what you want. It usually takes longer to find what you are looking for than it does to get it properly set up. Whether you are a do it yourself or simply want a professional to install it, the process is extremely simple and requires minimal time, materials, and cost. You will have your dream set up nearly as fast as you can pick it out. Author Bio: Tal Hassid - Door expert, wood expert, founder of the largest online marketplace for doors.
Website
.
Houzz
|
Facebook
|
Linked In