Seven Ways to Create Family Fun This Summer
by guest writer Paisley Hansen
May 23, 2019
Summer is a great time to create wonderful memories with your family, and you can do this in a variety of ways. Here are some of the best ways to enjoy the summer with your children.
Way 1: Visit a County Fair
Your county likely has a fair for a few days during the summer, and this is a great day trip excursion for you and your children. This is a place where your children can see a variety of large animals such as cows, horses and pigs along smaller animals such as rabbits or chickens. In many cases, you can see an assortment of farm equipment along with seeing some of the products that are grown in the fields. Some county fairs feature musical artists or rodeos, and you can also take your children on amusement rides.
Way 2: A Camping Trip
Every child should have an opportunity to go camping at least one time to experience sleeping underneath the stars. Make sure to bring along a waterproof tarp, sleeping bags and a tent along with containers of water and nonperishable foods. If you want to build a campfire, then you may need to provide your own firewood so that you can cook
hot dogs
and marshmallows on a stick. Plan a few activities for the camping trip, including rowing a boat on a lake, hiking in the woods or gazing at the stars.
Way 3: Spend the Day at a Water Park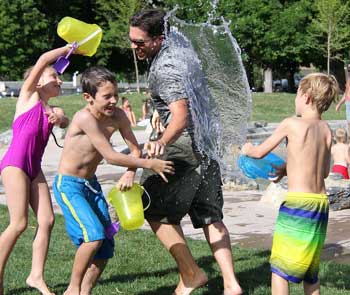 Look for a nearby water park where you and your children can enjoy a day of fun while splashing in swimming pools. A larger water park will have multiple swimming pools for different ages of children, and the accessories are made to fit these children so that they can have more fun. Make sure to bring along beach towels, cool drinks and
sunscreen lotion
.
Way 4: Find a Zoo
Summer is the perfect time to go to a zoo to see exotic animals such as giraffes, elephants and lions. Modern zoos have natural habitats, and there are signs that have information about the animals. In addition, you may learn that there are lectures at various locations at the park so that you and your children can learn more about the animals. In some cases, you can touch an animal such as a snake or a lamb, and you can also buy food to feed to the animals at a zoo.
Way 5: Museum Visits
If the weather is rainy or extremely hot, then you can still plan a fantastic day with your children. Look for museums that have displays for children or teenagers to enjoy. While some children will enjoy looking at paintings or sculpture, there are other types of museums that offer information about dinosaurs, aviation or toys. Some of the exhibits at a museum for children offer
hands-on learning opportunities
.
Way 6: Plan a Family Reunion
When you want to learn more about your family's history, you should plan a family reunion. You must plan this in advance so that you can contact all of your relatives to attend the event. It is a good idea to have a meal at an indoor venue so that everyone can talk to each other and compare notes on the family's genealogy.
Way 7: Vacation Away from Home
If you want to have a memorable vacation away from home, then look for the
best Caribbean cruise destinations
. Everything that you need for your family is on a cruise ship, and you don't need to carry your luggage from one hotel to another. Enjoy visiting a variety of islands on your family cruise.
How to Afford Family Fun
Make sure to have a budget to save for daily or long-term family fun, but also, you can look for special deals such as coupons or discounts to afford vacations.
Author Bio: Paisley Hansen is a loving wife and mother of twins. She is a self-described "DIY addict", and loves to decorate her house and office with her creations. As a mother, Paisley is really passionate about health, nutrition, and spending time with her family. When she's not writing, you can find her with a glass of mint lemon water and a child on each hip. Who says moms aren't superheroes?