Creating Time for Your Family
by guest writer Paisley Hansen
March 3, 2019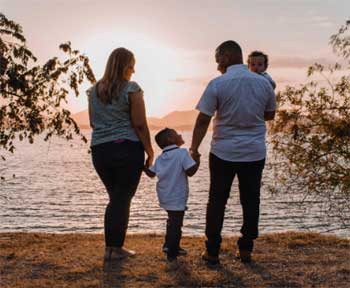 Family can be one of the best things in your life. If you have kids of your own, you know that they are your everything and mean the world to you. As a parent, you know that you do not become perfect overnight and each child has different and unique struggles and strengths.
All families come in different shapes and sizes but there are some specific qualities that each family can do to strengthen their family and build lasting memories with them. Some days seem like they go on forever but eventually one day your children will be grown up and on their own. The time that you have with your children is precious and is crucial for them and making sure they grow up healthy and happy.
Here are several things you can do to spend time with your family:
Support Each Other
Yes this is listed as the first item because it is one of the most important things that you could do for your children. It is great that you signed your child up for some kind of
extracurricular activity
that they are interested in. It is even better that you drive them to and from practice and make sure that they get there on time. Once this kind of behavior has been established you can up your parent game by taking this behavior one step further.
You can make the time to go to your child's game or activity. This does not mean you have to go and watch every practice, your kid may not appreciate that either. But you can make sure that when they have a performance or game you go and support them.
It can be so calming to see a familiar face in the audience or see your parent clapping and cheering as you make a goal for your team. Getting other family members to come such as family members or even grandparents, aunts, and uncles, can create a good feeling of connection with your family and your children.
Quality Versus Quantity
You may spend a lot of time with your family. But it probably looks like everyone is on their phone or some other electronic device in the family room or living room. It is great that your family is all in the same space at the same time but nothing is really happening or being done. This is why you want to
create moments
that are memorable in a good way and allow you to show your love to your kids.
Quality time could look different for each situation. It may be spending one on one time with a child after they have had a not so great day. It could also look like getting everyone together and go to a local community event or picnic.
Try New Things
There is something about doing new things that shows your vulnerability and openness to others. This can be so helpful for your kids to know that you are not perfect and you are aware that but you still show up and decide to overcome your fear. This does not mean you have to go skydiving or swimming with sharks. It can be something as simple as playing a new board game or something as exciting as going to an amusement park.
If your family really enjoys quality food you could start a tradition of trying a new restaurant once a month. If trying new food isn't really your family's thing it might be better to go to a sports game or go to a museum you have never been to before.
Get Away
There is nothing better to test your relationship with your family than going on a trip. This could mean piling everyone into a rental car and going across the country on a good old fashioned road trip. This means that your children have to learn how to get along with each other in close quarters without driving each other insane.
Traveling is great because nothing is going to go smoothly or as planned. This forces you and your children to be flexible about what happens. Traveling can also be stressful and uneventful. Waiting at the airport for a layover can be super boring or trying to catch a bus to get to your next event can be fairly intense if you are running late.
The expense that you spend on getting away does not equal how memorable it will be to the child or you. Something as simple as spending an evening in your backyard in a tent can super special to a child. Or if you could go on
luxury Southern Caribbean cruises
if you feel your family needs something more relaxing and exotic. Whatever you decide on your children will look back and realize how important those trips were even if they didn't enjoy them in the moment.
Author Bio: Paisley Hansen is a loving wife and mother of twins. She is a self-described "DIY addict", and loves to decorate her house and office with her creations. As a mother, Paisley is really passionate about health, nutrition, and spending time with her family. When she's not writing, you can find her with a glass of mint lemon water and a child on each hip. Who says moms aren't superheroes?