Life in the Emergency Lane
How to Handle a Car Breakdown
by guest writer Paisley Hansen
April 24, 2019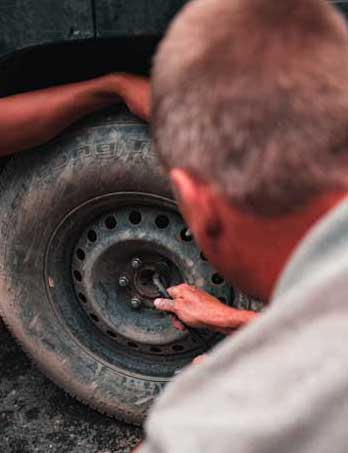 When we get behind the wheel and put the key in the ignition, we typically assume that the vehicle will start right up and continue to operate uninterrupted until we get where we are going. And for the most part, that is true. Improvements in technology from ignition systems to the rubber in our tires have made today's vehicles far less likely to strand us than those a generation ago.
With that said, breakdowns can still occur. Whether they are learning to drive for the first time or training for
truck driving jobs
, most drivers are too inexperienced with them to know what steps to take to handle the situation. For that reason, it's worth taking a few minutes to think about
how to handle a mechanical problem
in your vehicle.
Stabilize the Situation
A car breakdown will never lock your wheels right where you are. There is typically enough momentum in the car to let it coast to the side of the road. If the vehicle is running, you may even be able to do a little better than that. See if you can limp to a well-lit parking lot in a public area. Try to park somewhere fairly open in case a wrecker must maneuver into position to hook you up. Then put the car in park, set the emergency brake, turn on the flashers, and get to work on having repairs made.
Consider Easy Things First
What may seem like a catastrophe might actually just be a hiccup. Have you run out of gas? In our busy lives, it can be easy to forget that the gauge is creeping very close to the E. Gauges can even malfunction, tricking you into thinking you have gas when you are in fact about to run out. What about your battery? Could it have dirty or loose cables that prevent your vehicle from sustaining its electrical supply? Many such simply problems can be fixed with a little research on your phone, saving you the expense and hassle of calling a tow truck and heading to the shop.
Remember Roadside Service
Most likely, though, your situation will require skilled intervention. With breakdowns being so rare, we often forget about the resources at our disposal. Many manufacturers have roadside service included in their warranties or as a
stand-alone option
. The phone number is likely in your owner's manual or even somewhere on the car. You may also have a membership in an automobile club that you have forgotten about. Either of these networks can get you assistance from a qualified, reputable towing agency and get you to a shop as soon as possible. They may even include a rental vehicle for you.
Make Some Notes
Most trips to the service shop involve a lot of questions from the technicians who will be working on your car. They'll want to know
what happened
just before your breakdown, such as sounds, sights, smells, shakes, and other things you noticed. It may seem like they'll be easy enough to remember, but if your car gets towed tonight and you don't speak to the mechanic for another twelve hours, you may forget some important things that may make it easier to diagnose your problem. You'll also want to review your vehicle's repair and service history, digging out the receipts and printouts from your glove compartment and providing them to the mechanic.
A mechanical problem in your car can be a real hassle. You're left with no transportation to work, you incur a lot of expense, and you just feel out of sorts. Fortunately, with some organization and advance planning, you can work through your breakdown faster and more safely. Author Bio: Paisley Hansen is a loving wife and mother of twins. She is a self-described "DIY addict", and loves to decorate her house and office with her creations. As a mother, Paisley is really passionate about health, nutrition, and spending time with her family. When she's not writing, you can find her with a glass of mint lemon water and a child on each hip. Who says moms aren't superheroes?