Easy Ways to Improve Your Home for Less
by guest writer Paisley Hansen
May 15, 2019
Easy Ways to Improve Your Home for Less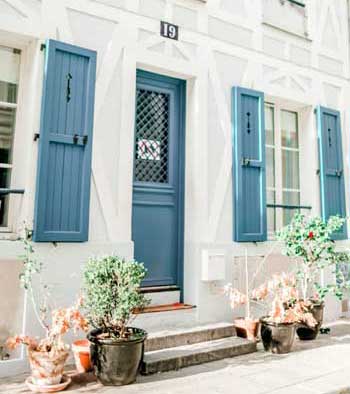 If you own a home, then you know that proper maintenance is an important part of keeping it in good shape. However, if you're looking to do more than this, then you may want to consider doing a few simple improvements as well. Fortunately, these don't have to break the bank to make your home look better than ever. Some great ideas to get you started can be found below, along with advice and tips for doing them successfully.
Make The Outside Look Nice
Nothing makes your home look more beautiful than the
landscaping
you see when you first drive up to it. While you can certainly call a landscaper to make a beautiful design outside of your home, you can also make improvements yourself. Take some time to lay out rocks, plant flowers (or place them outside in pots), and cut the grass. Even just sweeping, hosing off the driveway, and pulling weeds can help improve curb appeal quite a bit.
You might also want to consider painting your front door and adding a new handle to it for a fresh look. When paired with a few outside plants and a doormat, this can make the front of your home look warm and inviting.
Get Rid of Popcorn Ceilings
Popcorn ceilings are common in older homes and can give your interior a dated appearance. More importantly, it can hinder your home from selling quickly in the future. As long as your ceilings do not contain asbestos, which would require the help of a professional, you can remove these yourself with the help of online videos and a few simple tools.
Install Solar Panels
Do solar panels increase home value? Yes!
Research has shown that buyers are more likely to go for homes that are equipped with solar, especially in areas that get a lot of sun. What's even better is that it doesn't take a lot of
solar panels
to help offset the rising cost of electricity. So, even if you can't afford a large system, a smaller one can still be incredibly beneficial.
Power Wash the Outside
Power washing the exterior of your home and the top of the roof can get rid of dirt, mud, and bird droppings in just a few minutes. This can make your siding look like new or help make your paint look like it was freshly applied. You can hire a professional for an affordable price or you can rent equipment if you would rather do it yourself. Either way, you'll be making the outside of your home look refreshed.
Paint The Interior
A fresh coat of
paint
inside of your home can increase the value while improving the overall look. When combined with deep cleaning the floors, you'll have a home that genuinely looks freshly remodeled. To maximize your value, invest in paints that are easy to clean and don't easily come off when bumped into. There are even eco-friendly paints that don't leave behind chemicals in the air so you can have a home that smells nice and fresh right after.
Install New Drawer Pulls
Refresh your kitchen for an affordable price by changing out your drawer and cabinet
pulls
. You might be surprised at how much of an impact this can have, especially in an older kitchen.
Change Your Thermostat
A programmable smart
thermostat
will save you money and help make your life easier. It will also look nice in your home, which is a bonus for the look of your interior. Fortunately, there are many different thermostats to choose from so you can pick based on your needs and budget. Whether you want something high-tech or a basic solution to improving your energy consumption, this investment won't disappoint.
What's Next for Your Home?
The improvements above can make a huge difference with the look and feel of your home. They can also help improve the overall value, which can make them worth taking the time to do. Whether you start small or big, you won't be disappointed by making some of these changes as soon as possible.
Author Bio: Paisley Hansen is a loving wife and mother of twins. She is a self-described "DIY addict", and loves to decorate her house and office with her creations. As a mother, Paisley is really passionate about health, nutrition, and spending time with her family. When she's not writing, you can find her with a glass of mint lemon water and a child on each hip. Who says moms aren't superheroes?