Local Entrepreneurs to Host Small Business Marketing Conference Featuring "Shark Tank" Themed Competition
BucksMontBizCon "Shark Tank" Style Event Gives Entrepreneurs Chance to Win $5,000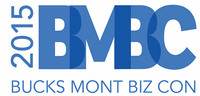 FEASTERVILLE-TREVOSE, PA. - SEOM Interactive, a digital marketing agency in Bucks County, and TheBathOutlet.com, an online bathroom accessories retailer in Montgomery County, are teaming up to host the first annual BucksMontBizCon business conference on October 22 in Warminster. At the conference, local entrepreneurs and start-ups will have a chance to participate in a "Shark Tank"-style event for the opportunity to win $5,000 to help fund their business.
Local entrepreneurs are currently being asked to complete an online submission form to enter into the event, dubbed "Sell It To The Sharks." After an evaluation process, three entrepreneurs/start-ups will be chosen to pitch their ideas live in front of three successful local CEO's - Will Shuhibar (TheBathOutlet.com), Colleen Mook (BabyBeHip.com), and Mark Kennedy (SEOMInteractive.com).
The competition will include a ten minute live pitch as well as a five minute question and answer session with the judges. Contestants will be judged on a number of factors, including their unique selling proposition, longevity, and financial considerations. The money will ultimately be awarded to the entrepreneur(s) who the judges feel have presented the best business plan.
The deadline for submission to participate in "Sell It To The Sharks" is Friday, September 18. For more information or to submit your idea, please visit http://www.bucksmontbizcon.com/#!sell-to-the-sharks/c1e0q.
About SEOM Interactive
SEOM Interactive is a digital marketing agency offering search engine optimization, pay-per-click advertising, social media marketing, and public relations services to small and medium businesses across the country. With a focus on generating quality leads, SEOM has helped hundreds of businesses increase their bottom line through effective online campaigns. To learn more, visit seominteractive.com.
About TheBathOutlet.com
TheBathOutlet.com was created with a single goal in mind - to provide a way for customers to select and buy home and bath furnishings from the comfort of their home, with all the tangible benefits of a physical store. TheBathOutlet.com prides ourselves in providing customers with the best shopping experience. For more information, visit http://www.thebathoutlet.com.
Learn More