Corvette Raffle Benefits Sunshine Foundation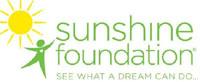 WARMINSTER, Pa. For the past thirty years, The Corvette Enthusiasts Community Foundation and Corvette Club of Delaware Valley supported Sunshine Foundation, the original wish granting organization in the United States. Pictured below, Bob Weiss, President of the Corvette Enthusiasts Community Foundation presents a check to President of Sunshine Foundation, Kate Sample, in the amount of $8,000.00. The funds were raised through the annual corvette raffle. The donation made by the Corvette Club of the Delaware County allows Sunshine Foundation to grant the dreams of three Sunshine Foundation Dreamers.
Sunshine Foundation answers dreams for chronically ill, seriously ill, physically challenged and abused children. Due to the financial hardships of their diagnoses, a family vacation or specialty dream is an expense that is hard for the families to provide. Since 1976, Sunshine Foundation has answered more than 40,000 dreams of children affected by illness.
About Sunshine Foundation
Sunshine Foundation is the nation's original wish granting organization founded in 1976 by Philadelphia Police officer. For 41 years, Sunshine Foundation has granted the dreams of more than 40,000 children. Sunshine Foundation's sole purpose is to answer the dreams of chronically ill, seriously ill, physically challenged and abused children, ages 3 to 18-years of age, whose families cannot fulfill requests due to financial strain the child's illness may cause. Dream requests are as unique as each child is, but the most popular requests are for family trips to Walt Disney World, LEGOLAND and the Central Florida theme parks and attractions. The Foundation also grants special dreams. Sunshine Foundation has been rated a top charity by CharityWatch. The Foundation relies heavily on the generosity from individuals and corporations. The national headquarters is located at 1041 Mill Creek Drive, Feasterville, PA 19053. For additional information, call Jessica Greene, Development Manager 215-396-4770 or email jessica@sunshinefoundation.org. You also can visit the Sunshine Foundation on the web at www.sunshinefoundation.org, or follow Sunshine Foundation on Twitter, Instagram, and Facebook: @sunfound, @thesunshinefoundation, and Sunshine Foundation.
Learn More