Habitat Bucks Holds a Wall-Raising for New Home in Morrisville

Sponsor: Habitat for Humanity of Bucks County

Congressman Brian Fitzpatrick and other dignitaries were among the crowd of over 50 local residents, civic groups and businesses that turned out yesterday for the "wall-raising" of a new Habitat for Humanity of Bucks County home in Morrisville, PA. The home, which is targeted for completion in July 2017, will be the 103rd home built by Habitat for Humanity in Bucks County.
During the event, Congressman Fitzpatrick recognized the corporate sponsors, agencies, and volunteers who work together to make the Habitat affordable housing program a success. With all the challenges we face, people coming together for a common goal is inspiring and uplifting and represents the best of our country and our community, Fitzpatrick explained.
"We are inspired by our partner families who work hard on becoming successful homeowners, especially by their work ethic and determination," said Florence Kawoczka, Executive Director, Habitat for Humanity of Bucks County. "Habitat is very much about building homes—homes that are professionally designed, sound homes that are affordable for families," noted Kowoczka. "Habitat is also about building community—we engage the community in helping us build and our families become active members of their towns."
Empowering even one family with affordable housing has a ripple effect and makes a positive economic and social impact on the entire community.
A family of eight will be moving into the Morrisville home from their cramped three-bedroom rental in Tullytown. Parents Tina and Bill, along with their five children (one of whom is in a wheelchair), and one grandchild will occupy the home. Tina and Bill are first-time homebuyers and expect to move into their new home in July 2017.
Habitat Bucks demolished the original structure at 428 Woodland Avenue in Morrisville because it was severely damaged by burst pipes. The future four-bedroom, two-bathroom, two-story Cape Cod home will be designed and constructed so that it is accessible to persons with disabilities, with a first floor bedroom that has an Americans with Disabilities Act (ADA)-compliant bathroom, and an exterior ramp at the rear of the home.
Sponsors of the project include Penn Community Bank, Parx Casino, Wells Fargo and Company, and Toll Brothers.
About Habitat Bucks
The mission of Habitat for Humanity of Bucks County (Habitat Bucks) is, "Building Communities, Empowering Families." Habitat Bucks has an open-door policy: All who believe that everyone deserves a decent, affordable place to live are welcome to volunteer to lend a helping hand.
The Habitat Bucks Homeownership Program provides an opportunity for low-income families to build strength, stability and self-reliance by partnering with Habitat. Habitat homebuyers contribute a minimum of 200 hours of sweat equity during the construction of their homes.
Since 1990, Habitat Bucks has built 102 affordable homes in Bucks County. Through its A Brush with Kindness home repair program, Habitat Bucks also makes repairs and minor modifications that preserve an affordable home and make it safe. Revenue from Habitat ReStores provides a source of sustainable funding for the construction and repair of homes.
About Parx Casino
Parx Casino® is owned and operated by Greenwood Racing, Inc. Parx Casino® is conveniently located 20 minutes north of center city Philadelphia, I-95 exit 37 or PA Turnpike exit 351 (westbound), exit 352 (eastbound) onto Street Road in Bensalem. Parx features 176,592 square feet of gaming; over 3,500 slot machines and 129 live table games; 81 poker tables; live racing; simulcast action; Parxgrill, an upscale signature restaurant; Foodies food court; Chickie's & Pete's Crab House and Sports Bar; 360 bar and live music venue; Jax sports bar; Circle Bar; Bambu Noodle House; Earl of Sandwich®; Xlounge, ultramodern luxury lounge and complimentary parking for over 5,000 cars. For more information on Parx Casino®, visit www.parxcasino.com.
About Penn Community Bank
Penn Community Bank holds more than $1.8 billion in assets and employs more than 300 people at 22 bank branches and two administrative centers throughout Bucks County, Pennsylvania. As an independent, mutual financial institution, Penn Community Bank is not publicly traded and operates with its long-term mission in mind: to help businesses grow and prosper, to support individuals and families throughout their lifetimes, to strengthen the local economy, and to partner with local organizations to act as a catalyst for positive growth in every market it serves.
About Wells Fargo
Wells Fargo & Company (NYSE: WFC) is a diversified, community-based financial services company with $1.9 trillion in assets. Founded in 1852, Wells Fargo provides banking, insurance, investments, mortgage, and consumer and commercial finance through more than 8,600 locations, 13,000 ATMs, the internet ( wellsfargo.com) and mobile banking, and has offices in 42 countries and territories to support customers who conduct business in the global economy. With approximately 265,000 team members, Wells Fargo serves one in three households in the United States. Wells Fargo & Company was ranked No. 27 on Fortune's 2016 rankings of America's largest corporations. Wells Fargo's vision is to satisfy our customers' financial needs and help them succeed financially. News, insights and perspectives from Wells Fargo are also available at Wells Fargo Stories.
Learn More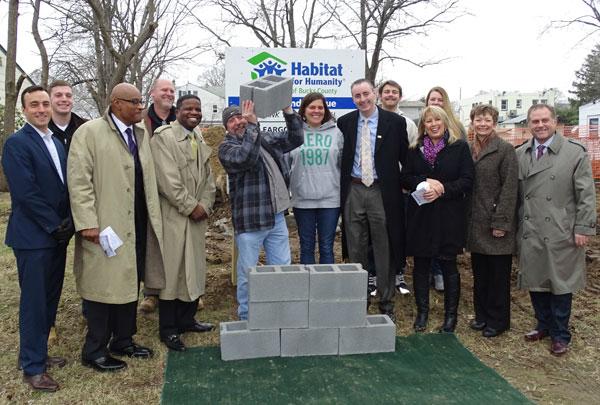 Photo caption: Attending Habitat for Humanity of Bucks County's wall raising in Morrisville were (l to r) Christopher Smylie (Parx Casino), Kevin Long (Toll Brothers), Ron Davis (Parx Casino), Ken Hill (Toll Brothers), Stephen Briggs (Wells Fargo), Bill and Tina (homebuyers), Congressman Brian Fitzpatrick, Jarrett and Alyson (family members), Michelle Saldutti (Parx Casino), Florence Kawoczka (Habitat Bucks County), and Todd Hurley (Penn Community Bank).Photo credit: Stefanie Clark