Potential Inc. Breaks Ground for Autism Friendly & Therapeutic Playground
The Provident Bank Foundation grant lifts project to new heights

Sponsor: Potential, Inc.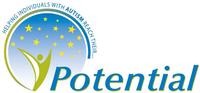 Potential Inc. held a groundbreaking ceremony for an autism friendly and therapeutic playground on March 21, 2017. Jane Kurek, Executive Director of The Provident Bank Foundation, presented Potential Inc. with a $5,000 grant check towards the construction of the playground. "The Provident Bank Foundation is pleased that we can be the catalyst to move this project forward and help put a smile on the children's faces."
Charles Martin, Chairman of the Bucks County Commissioners, presented a $2,500 donation from the Commissioners and an official proclamation which read in part: "Now therefore, do we, the Bucks County Commissioners… proclaim March 21st, 2017 as Potential Inc. Therapeutic Park Groundbreaking Celebration' throughout the County of Bucks. In so doing, we support Potential Inc.'s goal of building a playground that will help children develop and improve their social, emotional, physical and cognitive skills."
Kristine Quinby, Founder, President and CEO of Potential, commented, "On Potential's 11th Anniversary, we are proud to enter a new chapter in the treatment of autism. With the support of so many in our community, we will be able to provide quality therapeutic intervention that will include the use of a specialized playground that targets social, emotional, and physical growth. We look forward to hosting everyone on June 11th for our final fundraiser for the playground, our Car Show for Autism. Sponsorship and vendor opportunities are still available."
Monica Darling, Chair of Potential Inc.'s Board of Directors, thanked the donors for their generosity and the community for its support including the Peterson, Hanover and Meehan families that made significant contributions to the project. "With today's generous donations, we will have raised nearly $40,000 of the $50,000 needed for the project. This is a beginning, not the end. There is a lot of unmet need - and there is still a lot of work for Potential to do and we will need help from our community to get it done. I encourage you all to get involved and help us take action. To the media, help us raise awareness, To our sponsors and donors, help us scale our programs to help more clients benefit from Potential services."
Potential Inc. is a 501 (c)(3) Corporation that seeks to assist individuals with Autism in reaching their educational, social, and emotional potential by focusing on applying and conducting scientific research. Potential, Inc. is dedicated to providing high quality direct services, consultation, community outreach and education for families. For more information about Potential Inc., visit www.potentialinc.org or call 888-AUTISM-0.
The Provident Bank Foundation was established in 2003 with the intent of supporting not-for-profit groups, institutions, schools and other 501(c )(3) organizations that provide valuable services to the communities served by Provident Bank. Since inception, the Foundation has granted more than $21million to not-for-profit organizations and institutions working toward stronger communities. For more information about The Provident Bank Foundation, visit www.ProvidentNJFoundation.org or call (862) 260-3990.
Learn More