Syria Before the Fall - Two Professional Women Recall Their Childhood Homes

Sponsor: The League of Women Voters

The war-torn ruin we see in the news is not how these two professional women remember the Syria where they grew up. Speaking to the League of Voters of Bucks County at the League's annual holiday gathering, Dr. Raghan Abouasaleh, was born and educated in Damascus and enjoyed a happy and secure life in the rich culture of this ancient city. As a Christian, her family was among the minority faiths living and working in harmony among the 64% Muslim majority. "I was never afraid," she said, "It was a very good life there."
Prior to the civil war, Syria was a regional beacon of religious tolerance (Christianity, Judaism, and Islam all originate from Abrahamic roots). Dania Bawadkji, an established artist, is Muslim and received her education in Aleppo, Syria. Both speakers celebrated the antiquity of Syria, its traditions going back to 10th c. BC to a time when agriculture and cattle breeding began. Throughout its history, Syria has been a crossroads for trade and a prize of conquest—by the Persians, the Greeks, the Romans, the Ottomans, and the French during World War I.
Traditional foods and large, close, extended families are central to the Syrian culture and to these two women, who are young mothers married to Syrian Americans. Dr. Abouasaleh is a Board Certified physician in Internal Medicine and has a geriatric practice at Pennswood Village. Ms. Bawadkji is studying for her Master's degree in Architecture and is a renowned local artist and designer.
A special feature of the program was a menu of traditional Syrian foods (kibbeh, cheese pastry, spinach pastry, chicken tortillas, stuffed grape leaves, and tabbouleh) and desserts (baklava, orange blossom syrup pudding, and kunafah).
###
The League of Women Voters never supports or opposes candidates for office or political parties. Any use of the League of Women Voters' name in campaign advertising or literature has not been authorized by the League. Elections and voting are core concerns for the League of Women Voters. Year in and year out, Leagues are committed to providing fact-based information about issues and the positions candidates take on those issues to help our members, and all voters, make informed decisions.
The League of Women Voters, a nonpartisan political organization, encourages informed and active participation in government, works to increase understanding of major public policy issues, and influences public policy through education and advocacy. Membership in the League is open to men and women, age 16 and older. Call 215.230.9986 for membership information.
Learn More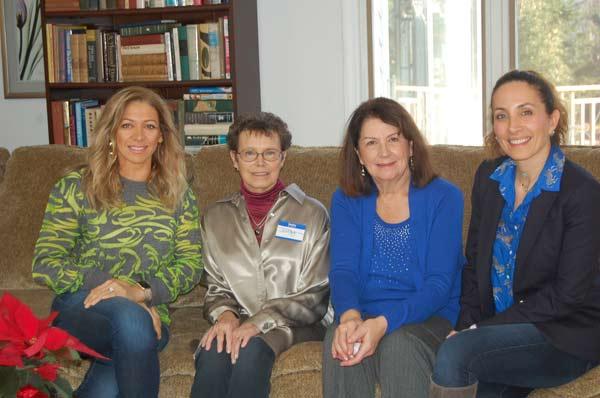 Left to Right - Dania Bawadkji, Judy Franlin (LWV President), Connie Borichevsky (Hostess), Dr. Abouasaleh