TRI SCREENING, BENEFITING THE USA TRIATHLON FOUNDATION
Inspiring, award-winning drama TRI screens Friday, January 13 in Newtown, PA.
Event Date: 1/13/2017
Location: Zlock Performing Arts Center - Bucks County Community College, 275 Swamp Road, Newtown, PA 18940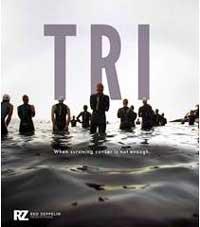 The film, which recently walked away with the top prize at the Northern Virginia International Film & Music Festival, features Philadelphia's own Jensen Jacobs and TV legend Tim Reid.
The screening benefits the USA Triathlon Foundation. Proceeds from ticket sales and the raffle benefit the USA Triathlon Foundation. Gifts to the USA Triathlon Foundation will be used to create opportunities that otherwise would not exist for youth, those with disabilities, and aspiring Olympians to transform their lives and build a healthy lifestyle through Triathlon. For more information about the foundation, please go to www.usatriathlonfoundation.org
The evening will include a pre-screening reception in the lobby of the Zlock Performing Arts Center (located on the Bucks County Community College Campus) from 6:00pm-7:30pm, where guests can enjoy an open bar and complimentary snacks, and have the opportunity to meet the cast and crew of TRI.
Scheduled appearances include the film's stars Chris Dyer, Kenneth Simmons and Rick Kain along with producers Ted Adams, Tara Gorman and Kimberly Skyrme.
In addition to winning Film of the Year at NOVA, Jai Jamison's inspiring drama snared the NOVA Award, Best Actress (Jensen Jacobs), Best Family / Faith Based Film, and Best Inspirational Film.
TRI was also a Runner Up for Best Cinematography (Feature Film) and Best Editing (Feature Film).
The film also recently won the Indie Spirit Best Story Line Award from the Boston International Film Festival.

TRI is an inspiring, emotionally-charged drama about a medical technician with a history of not finishing things who is inspired by a cancer patient to sign up for her first Triathlon. Philadelphia native Jensen Jacobs plays the lead role.

Natalie (Award-winning actress Jensen Jacobs), an ultrasound tech with a history of not finishing things, is inspired by a cancer patient to sign up for a Triathlon. Natalie is introduced to the strange (and aerodynamic) world of triathletes and meets a colorful cast of characters as she trains for the Nation's Triathlon. With the support of her new teammates, she digs deep to discover just how far she can push her mind and body.

TRI is the first scripted feature narrative about triathlons that has been developed for theatrical release. Triathlon is the fastest growing endurance sport in the world and was the fastest growing of all sports in the UK in 2014. There are over 600,000 athletes registered with USA Triathlon, and over 3.2 million worldwide.

Although the film uses triathlon as a backdrop, the niche target market for the film is female runners. Of the roughly 20 million finishers of running events in 2014, 60 percent were women.

The concept of TRI is to raise awareness and hope for those who are seeking compassion or understanding while dealing with cancer as a caregiver, a patient and a survivor.

The writing team for TRI includes a two time Ironman finisher and professional triathlon coach who has led cancer awareness programs; a cancer survivor; and, an award winning screenwriter who has lost loved ones to cancer.

Jensen Jacobs, Shawn Pelofsky, Jaylen Moore, Chris Williams, Kelly Spitko, Tim Reid and Walker Hays star in a Jai Jamison film, written by Theodore Adams III, Monica Lee Bellais and Jai Jamison. The Executive Producers include Kimberly Skyrme, Regional Casting Director for House of Cards, and Russell Williams II, a two time Academy Award winner.
More info :
Web: www.TRIforcure.com
Facebook: www.Facebook.com/TRIforcure
EVENT SCHEDULE:
Friday, January 13:
6:00-7:30 PM - Pre-screening reception in theater lobby
7:30 PM - Raffle prize drawing (inside theater auditorium)
7:45 PM - USA Triathlon Foundation Presentation and Movie Introduction
8:00 PM - Movie Screening Begins
9:45 PM - Post-Screening Q&A with TRI Cast Members and Producers
Learn More